RIKEN CCJ (PHENIX Computing Center in Japan)
RIKEN CC-J Current system
RIKEN CC-J system at Wako campus is now under construction from the Spring of 1999. The operation of the CC-J started in June 2000.
Current components of the CC-J
HPSS

HPSS server (SP2 5-node 20-CPU, with SP switch and Gigabit NIC)
8 x 1 TB cache Disk (totally 8 TB cache Disk)
288 GB Work disk (Raid 5) for data import/export
HPSS 6.2, AIX 5.3
6 x 9940B + 2 x T10000 Tape drives
STK Robot (4 RedWood drives, 400TB tape media)
Catalyst 6500 Switch
Gigabit (jumbo frame) network and 1000BaseT connection to SUN/Linux
About 200MB/s sustained data transfer performance obtained

Data Server

4 SUN Fire V40z Data Server (2.2-2.6 GHz, Dual Opteron, 8GB Memory)
1 SUN Fire 880 Data Servers (750 MHz 6 CPU, 12GB Memory)
6.0 + 6.0 TB Fiber-Channel (SX) RAID5 Disk for data area
6.5 TB Fiber-Channel (SX) RAID5 Disk for data area
2 X 9.8 TB Fiber-Channel (SX) RAID5 Disk for data area
6 x 8.8 (52.8TB) SATA RAID6 for work area
using Veritas File System (VxFS on SUN Fire 880)
using XFS or ext3 file system on SL
Catalyst 4500 Switch

GCE Server

SUN Enterprise 450 server (400 MHz 2 CPU, 1GB Memory)
For General Computing Environment and monitor/control
/afs/rhic are mirrored daily to the local file system using rsync

Linux CPU farms (Production farm)

Ten boxes of AltaCluster
Scietific Linux 305 Kernel 2.4.21-32.0.1.EL, installed by KickStart
LSF Batch Queuing System (version 4.2)
(Old CPU farms) Pentium III @ 700 MHz x 32 CPU + Pentium III @ 850 MHz x 96 CPU + Pentium III @ 1 G Hz x 96 CPU + Pentium III @ 1.4 G Hz x 72 CPU + Pentium IV @ 2 G Hz x 36 CPU (totally 166-node 332-CPU), Total clock sum = 378 GHz
Memory: 1GB/node, Disk: 14-33 GB/node
(Nnw CPU farms) RSCC Dual Xeon 3.06GHz X 256 CPU (Total clock sum = 768 GHz)
Memory: 2GB/node, Disk: 100 GB/node
3 Catalyst 2948G gigabit Switching Hubs

WAN

WAN Bnadwidth of RIKEN has been updated to 10 Gbps in January 2007.
WAN Bandwidth of RIKEN CC-J has been updated to 2 Gbps in April 2007.
CC-J Current System at RIKEN Wako (April 2007)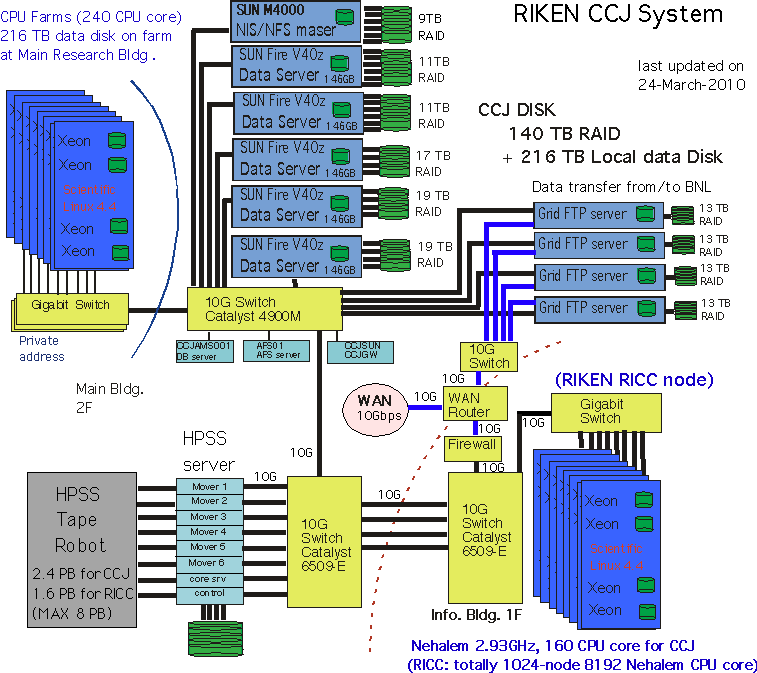 ---